Mad Hatter
I think I may have figured out just why I never finish projects. You see, when I start something new while in the middle of something else, then I always have something exciting and challenging to keep me busy. But once I finish the challenging and exciting thing that I was working on, I end up working on... nothing. Not the socks for my mom's birthday, not my friends wedding outfit (for the wedding she may not have), nothing. So much to knit, so little enthusiasm.
But! On the other hand, I am tempted to make fifty more
Odessas
. Wonderful pattern. Wonderful hat.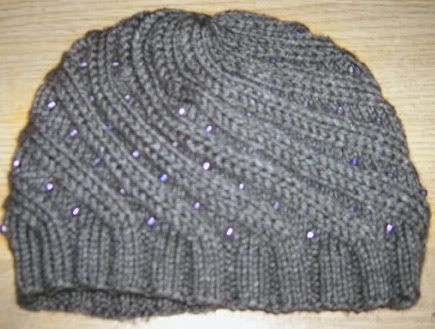 There it is, in all its grey and purple glory. I love this thing. Too bad it makes me look like I'm a prepubescent boy with boobage. So, off to a well-deserving friend it goes.
And here's a picture of it on my head, also showing the horridness that is growing out my hair.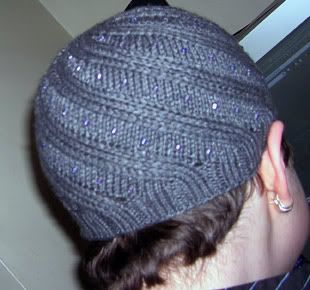 The first picture is much more true to colour.
Oh, and:
There's me! :D
Now, I'm off to go find some patterns for my sockapaloooza socks. I just bought two pounds of undyed sock yarn with which to play with...